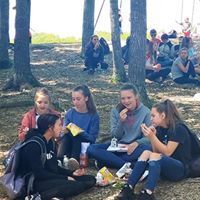 BRES Celebrates Community!
Tricia Campbell
Monday, June 10, 2019
Today BRES celebrated community! All PreK-8th grade students and staff celebrated our very special and strong school family while participating in exploration and experiential learning opportunities in our larger community. Students enjoyed investigating and connecting with many different resources and the beauty of the Boothbay Region.
BRES is grateful for the embrace and support of the people, businesses and resources of Boothbay and Boothbay Harbor!